#Cloud
#Cybersecurity
#Unified communication
How to share documents securely without being at the office?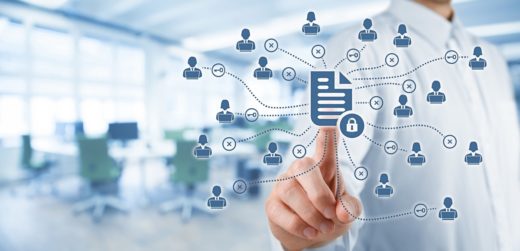 Communication between employees is more than ever essential to ensure the smooth running of a company. Employees in all departments must be able to easily share and receive files in order to carry out their tasks efficiently, even when working remotely. Secure documents sharing is a real performance lever and must therefore be an integral part of your company's strategy!
Is e-mail the right solution?
Today, many of us still use e-mail to send various files to the people we are talking to, even though it is a fact that this system is particularly vulnerable to cyberattacks. It is therefore advisable to use more secure tools when sharing documents, especially if they contain personal or confidential data.
Moreover, the mass of emails received daily can make it difficult to find a certain document, or to distinguish between the final version of a file and previous versions, directly hindering the productivity of your teams.
Finally, the sending of files by email also encounters another limitation, that of the maximum size of documents to be sent.
How about file sharing services?
It is now possible to have company files at your disposal with a single click and from any device (smartphone, tablet, and computer), thanks to the storage and synchronization of data in the cloud. Collaborative tools that allow you to store, share or even modify all types of documents in real-time have indeed emerged in recent years.
Currently, many free file-sharing solutions for the general public are available on the market. But these do not guarantee strict confidentiality or a high level of security. However, given the priceless value of corporate data, it is essential to guarantee its security in order to ensure the continuity of your business.
The advantages of professional solutions
The use of business-oriented solutions is more than recommended. Indeed, only professional solutions provide advanced protection against theft, loss or hacking of shared files, thanks to backup in a secure and duplicated environment, and the implementation of encryption and firewalls technologies. In addition, these solutions provide real control over what is done with the data, with the ability to output reports showing user activity and to perform compliance audits.
Furthermore, a variety of features are available to enhance data security, such as:
Access rights policies to the various documents (read, modify, download, delete, availability time,…)
Implementation of two-factor authentication
Possibility of remote erasure or locking in case of theft or loss of equipment